Pat Galea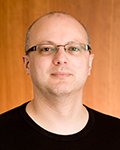 Director, Icarus M9 and M13 Lead
Pat Galea is a director of Icarus Interstellar, a non-profit research foundation dedicated to researching technologies that will enable breakthroughs in interstellar travel. He has worked in the software industry since 1993 for
IPL
 on a variety of systems across several industry sectors for a range of customers. He has been involved with Project Icarus since 2009, shortly after the project's inception, taking on responsibility primarily for the communications and telemetry aspects of the design. He has contributed to the Discovery Space News series on Project Icarus, and presented project papers at several conferences.
Selected Publications and Conference Papers
Galea P., Machine Learning and the Starship: A Match Made in Heaven, 100 Year Starship Symposium, 2011.
University of Bath Electronics and Communication Engineering BEng 1991 and Open University Physics BSc 2007.
ACCU – Professionalism in Programming
ACM – Association for Computing Machinery
AAAI – Association for the Advancement of Artificial Intelligence
BCS – British Computer Society
IEEE – Institute of Electrical and Electronics Engineers
AFCEA – Armed Forces Communications and Electronics Association
AIAA – American Institute of Aeronautics and Astronautics