Dr. Stephen Howe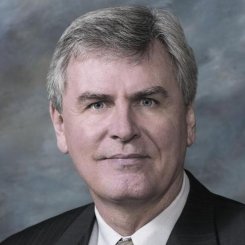 Dr. Stephen Howe is currently the Director of the Center for Space Nuclear Research (CSNR) at the Idaho National Laboratory in Idaho Falls, ID.  The CSNR is engaged in facilitating research and education of nuclear technologies for space exploration.  Currently, the CSNR is investigating the development of radioisotope-powered Mars Hopper, a nuclear rocket design that enables a Mars Sample Return mission, and the fabrication of fuels for nuclear reactors for power and propulsion in space.
After receiving his PhD in nuclear engineering from Kansas State University he spent twenty two years at the Los Alamos National laboratory (LANL) at the Los Alamos Neutron Scattering Center (LANSCE), in the Thermonuclear Applications group of the Applied Physics Division (X Division) and as the Program Element Manager of the Reactivity and Compression element in the Nuclear Weapons Stockpile Stewardship Program. In 2005, he became the founding director of the CSNR.
He is also the CEO and co-founder of the Hbar Technologies, LLC based out of West Chicago, IL.  Hbar Technologies is pursuing the development of a low energy source of antiprotons for use in a variety of commercial applications including Homeland Security and radiotherapy medical treatments for inoperable tumors.
In addition to his regular activities, he is a published author of fiction having published the novels, Wrench and Claw, Honor Bound Honor Born, and First Mars as ebooks at Amazon.com and Smashwords.com .