Dr. Andrew Karam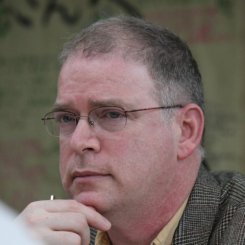 Icarus M12 Lead and Designer
Andrew Karam has been working with radiation safety since 1981, when he joined the Navy's nuclear power program and spent several years on a nuclear attack submarine. Following his 8 years in the Navy Andrew earned degrees in Geology and Environmental Science at the Ohio State University, completing his PhD in 2001 and earning comprehensive certification in health physics (the profession that deals with radiation safety) in 1995. 
Andrew has published extensively for both the general public and professional audiences, including a number of books, book chapters, encyclopedia articles, and peer-reviewed scientific papers – in addition to this he has given over 100 presentations and invited lectures to groups that include fellow radiation safety professionals, geologists, astronomers, and paleontologists.
Andrew has served on committees for the National Academy of Sciences and the National Council on Radiation Protection and Measurements in addition to serving on the Board of Directors for the Health Physics Society. He currently works on issues related to preparing for radiological and nuclear emergencies.