Prologue: Forbidden Planet, The Krell and The City Building
posted by admin on April 2, 2013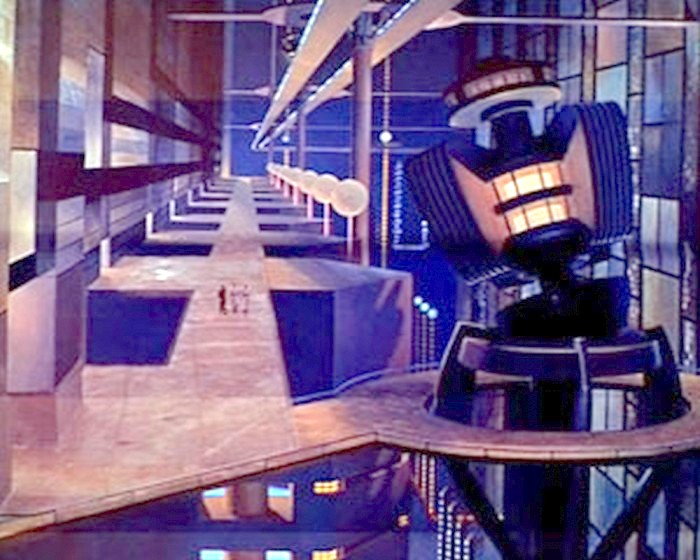 This guest blog is a contribution from Glenn Thornton. Glenn is recently retired from a career at Los Alamos National Laboratory. He worked on underground nuclear testing at the Nevada Test Site for four years and then joined the Lab's satellite design group. He made important contributions to several satellite projects, some NASA funded projects among them. He designed the data acquisition systems for the Lab's neutron spectrometers that flew on Lunar Prospector and a similar instrument for Mars Odyssey. Lunar Prospector was the first orbiting lunar probe to use remote sensing (neutron spectrometer) to definitively identify water ice deposits in the permanently shadowed craters at the lunar poles. Mars Odyssey is still orbiting and returning data from Mars. It has produced detailed global maps of subsurface ice deposits on Mars. The neutron spectrometer can see about a meter deep and identify the percentage of water ice within a "footprint" that the instrument sees as it travels over a region. Glenn currently lives with his wife Pam and their mischievous cat, Tilly, in Santa Fe, New Mexico.
The tale that follows is both whimsical and serious; whimsical in derivation, but serious in its implications. If you like open spaces and the natural wonders preserved in our national parks and forests, I think you'll find food for thought. If you're concerned about the survival prospects for species other than homo sapiens, there's something here for you too. Even if you only care about "us" and our quality of life, you'll be interested in reducing pollution and making our critical resources stretch far into the future.
I warn you; reading this may make your head explode! Our "western" way of life is derived from people moving out to new territory and just filling up the land. We tend to think of ourselves as living in the "wide open spaces", but the more we sprawl out, the less "wide open" space we have. The concept I present will make logical sense, but it will uncomfortably challenge your western mindset. It will be easy to just dismiss it, but if you truly love the natural beauty of our planet, you may find it difficult to completely ignore.
Of course, this site is concerned with reaching new worlds that may offer natural wonders that rival our home planet. Perhaps we can do a better job of maintaining the natural beauty of our next world if we reflect on innovative and alternate ways to live on our own planet.
The "revelations" that follow have been written and talked about in other places for at least many decades. My own journey occurred as I described it; it was independently arrived at. I think the one feature about my experience is the scale of the picture that I discovered.
Keep a bottle of aspirin handy and don't take it too seriously…but perhaps not too lightly either.
Forbidden Planet, The Krell,and The City Building
by Glenn Thornton
In March of 1956, a movie destined to be a science fiction classic was released by MGM. While there were many science fiction movies made in the fifties, only a handful were truly memorable. If I can venture a recipe for a great movie, I'd recommend one cup of great script, two cups of solid casting, and three cups of talented direction. In the case of Forbidden Planet, the cups runneth over. As self-appointed movie critics, we all find issue with "this actor, that part of the script, or some effect that doesn't meet a modern standard", but the movie endures…there's something special there.
In case you haven't seen the movie, I won't spoil it. I only need to provide a glimpse of the film; no more than a responsible critic would reveal. Forbidden Planet takes place on a planet called Altair IV. In the distant past, the planet was occupied by a race called the Krell. The Krell had risen to greatness – with advanced technologies we were only beginning to explore – when, for some mysterious reason, they perished in a single night. All that remained of that great race was an incredibly huge machine, still functioning and maintaining itself, long after its creators had vanished forever.
The inspiration for this paper is that incredibly huge machine of the Krell. As depicted in the movie, it was a cube, twenty miles on a side, completely below ground – an impossible construction by any methods or materials science we know. This is what I call a "gee whiz" factor. The viewing public is supposed to be so impressed that it's simply beyond their grasp – hence, "Gee whiz!" Being a big fan of classic science fiction, I own this movie on DVD and I've seen it many times. Once, a few years ago, I was no longer satisfied with "gee whiz", or else I just had nothing better to do at the time, but for some reason I decided to go beyond "gee whiz" and get a better grasp of that huge Krell machine.
"A cube, twenty miles on a side; just how big is that?" That's the question I finally asked myself. In order to answer it, I looked at the Krell machine as a building that would accommodate a population. I wanted to be conservative in my calculations, so I eliminated half the building to account for necessary infrastructure; support elements, walls, plumbing, electrical, heating and cooling, etc. That still leaves a habitable space of ten miles by twenty miles for each floor. I also figured sixteen feet between floors.
Just for completeness and accuracy, here's the math:
One mile = 5280 feet
Twenty miles = 105,600 feet
105,600/16 = 6600 = the number of floors, one every sixteen feet
Ten miles = 52,800 feet
Habitable space on each floor is 10 miles X 20 miles = 52,800 X 105,600 = 5,575,680,000 square feet
Allowing 1000 square feet per person = 5,575,680,000/1000 = 5,575,680 people per floor
Total building population = 6600 X 5,575,680 = 36,799,488,000 people, or 36.8 billion, rounded off.
As I worked my way through this calculation, I was more "gee whizzed" than ever before. I expected a big number, but I really didn't realize it would be more than five times the entire population of the Earth. The total land area of the Earth is about 57.3 million square miles. The extremely three-dimensional construction of the Krell only consumes 400 square miles. Using the Krell building, we could theoretically get more than five times the population of the Earth into an area that's only about seven ten-thousands of a percent the size of Earth's total land area.
While the imaginary Krell building is not something we have the means to build, it does point out a serious flaw in the way we – humanity – have chosen to occupy the planet. The way we currently build and live is predominantly two dimensional and it's the primary reason for most of our problems, in terms of pollution, as well as looming energy and critical resource shortfalls. It's also the reason we're consuming so much of the open land area and putting more pressure on other species than we really have to.
The following excerpt from Wikipedia discusses the most densely populated and second largest metropolitan area in the world.
"The Greater Tokyo Area is a large metropolitan area in Japan, consisting of the Kantō region as well as the prefecture of Yamanashi. In Japanese, it is referred to by various terms, the most common of which being National Capital Region (首都圏, Shuto-ken?).
A 2007 UN estimate puts the population at 35,676,000,[4] making it by far the world's most populous metropolitan area. It covers an area of approximately 13,500 km² (5,200 mi²),[5] giving it a population density of 2,642 person/km² – which is more than twice the population density of Bangladesh. It is the second largest single metropolitan area in the world in terms of built-up or urban function landmass at 7,800 km² (3,000 mi²).[6] Only the New York metropolitan area, at 17,405 km², is larger."
There are slightly more than 247 acres per square kilometer, so the Greater Tokyo Area in Japan already has more than ten persons per acre. The total area is 5,200 square miles. If we look at it as if it were a square plot of land, it would be just over 72 miles on a side, containing a population of nearly 36 million people. Compare that to the Krell model; a highly three-dimensional space, twenty miles on a side – a total area of just 400 square miles and a population of 36.8 billion. This highly three-dimensional approach puts over a thousand times the population into an area that's one-thirteenth the size of the GTA.
Our major cities only get serious about the three-dimensional approach when we get to the heart of their business centers – that's where we see the skyscrapers. Skyscrapers are now routinely going way beyond a hundred floors. The Empire State Building was completed in 1931 – just in time for the original King Kong to climb it in 1933. It reigned as the world's tallest building for over forty years, with 102 floors. Skyscrapers are the right idea, but their footprints are too small to achieve the desired results. It was the tremendous footprint of the Krell building that led to the enormous capacity of 36.8 billion people.
Of course, I'm not seriously suggesting we would actually duplicate the Krell machine, particularly in terms of height! However, working off of that model, we can try some interesting things.
Let's be conservative and take just one hundred floors from our Krell building; what does that come to in terms of population potential?
Each floor of our Krell building, by the choices I made, could hold 5,575,680 people.
100 floors X 5,575,680 people per floor = 557,568,000; more than half-a-billion people.
That's more than fifteen times the capacity we need! Let's keep the number of floors, but reduce the area accordingly. Since the population per unit area is consistent, we can just divide it by fifteen to get into the right ball park.
400 square miles/15 = 26.66 square miles
557,568,000/15 = 37,171,200 people; almost 37.2 million people.
Remember, the GTA covers 5200 square miles.
5200/26.66 = 195.05, rounded off; the GTA is nearly two hundred times the area we'll need.
Basically, using the Krell model, we can get the same population into an area that's about one-half of one-percent of the original area.
Also, unlike the Krell model, there's no need to consolidate all of this capacity into a single structure; if we did, it would be a building about 5.16 miles on a side (the square root of 26.66 = 5.1633).
We've saved so much room, I think we can be generous with the people of the GTA – and still give back a tremendous amount of open space. While we're doing it, we can switch back to the metric system, since that's what they use.
What we're going to do, is to create what I call city buildings. These are very large footprint buildings that are also pretty tall, but not approaching the record setting skyscrapers we see today. We'll stick with one-hundred floors, but the footprint of these buildings makes them the size of a city, all contained within a single, unified structure. This approach requires far less resources than hundreds of thousands of individual structures and greatly reduces the need for conventional auto and truck traffic. The citizens of a large city, just doing their daily rounds, consume millions of gallons of gas and diesel fuel, every day – to a very large extent, the city building eliminates this designed in consumption.
Let's start by converting our 5.16 miles to kilometers; it comes to a little more than 8.25 kilometers. Let's round that up generously, to ten kilometers. This gives us a single building footprint that's ten kilometers on a side, or a total area of one-hundred square kilometers. The next step is to break this up into a number of still large and highly three-dimensional structures.
We want large footprint buildings; that's how we gain the maximum three-dimensional advantage. Let's say that each of our city buildings is two-kilometers on a side, or four square kilometers in area. This would allow us to chop this single building (ten kilometers on a side = 100 square kilometers) into twenty-five buildings of four square kilometers each.
Okay, now we've gone metric, so let's compute the people capacity in metric. The cleanest substitution for our previous allotment of one-thousand square feet per person, is one-hundred square meters per person. This is a little more than seven-and-a-half percent larger than one-thousand square feet. Applying our same rule of thumb, we throw half of each four square kilometer floor away as infrastructure requirements and compute each floor as two square kilometers. In order to make this easy to see, let's convert from kilometers, back to meters and figure the area in square meters.
1000 X 2000 = 2,000,000 square meters (2 million square meters per floor)
We're going metric and allowing one-hundred square meters per person to compute the capacity.
2,000,000/100 = 20,000 people per floor
There are one-hundred floors per building.
20,000 X 100 = 2,000,000 people per building.
So far, we're considering a total of twenty-five buildings.
2,000,000 X 25 = 50,000,000; a total design population of 50 million people.
So far, so good; we've taken an original area of 13,500 square kilometers, with a population of about 36 million people, and provided generous space for all, with a total of 25 city buildings, each housing 2 million people, with a combined footprint of just 100 square kilometers – yet we've manufactured 200 square kilometers of habitable space with each building, or a total of 5000 square kilometers for all 25 buildings.
It should be clear that we could build four times this number of city building structures, a total of a hundred, and allow for all the GTA infrastructure requirements; power, water treatment, the whole nine yards, and still be way ahead on land use and resource consumption.
You might say, "Why worry? We have plenty of land!", but how much do we really have? Even aside from how much, is the question of how useful or available it is.
The total land area of the planet includes Antarctica, limited by treaty to granted research activities, and every bit of frozen tundra in the far northern reaches of the world, as well as jungles, mosquito infested swamps, and the most arid deserts. Now add in the fact that we need to conserve some of our best land for agriculture, including the growing of livestock. Mmm…burgers!
We're not through; there's even more to consider. Even in the United States, where we're far from land poor, we have people living in the middle of flood plains, with an absolute certainty that their homes will be a total loss within their lifetimes; sometimes more than once. We also have communities throughout tornado prone areas, also with high probabilities that they'll suffer catastrophic losses, including their lives. There are also many areas with known fault lines and a history of catastrophic earthquakes.
Just for good measure, we can add in hurricanes, tsunamis, and volcanoes – including super volcanoes. Perhaps a final consideration would be asteroid and comet impacts – plus any other threats that might come from outside the planet. This last category isn't something we can escape by building our homes in a different location, as much as having more secure and robust areas for shelter – just in case…
There's only so much prime land for power generation, agriculture, industrial activity, and shelter. These are the things that any civilization must do and the larger and more advanced a civilization becomes, the more dependent it is on these functions. While temporary interruptions must be weathered, long term losses in any of these critical areas must be avoided at all costs.
On a recreational level, we can utilize the most hazardous areas on the planet – at our own risk. In many cases, we'll have some reasonable notice that a hazard is developing and enough time to get out of harm's way – such as getting to high ground when a tsunami warning is given, or leaving an area that's becoming increasingly volcanically active. In any case, it's one thing to choose to surf a tsunami, or play tag with an active volcano, but it's quite another to build your home in harm's way, near a volcano, or along a shore where tsunamis have a history of recurrence.
To a large extent, we know our planet. We know where the active volcanoes are and we understand the mechanisms that will give birth to new ones, or bring the dormant ones to life. We know where hurricanes and other violent storms are born and where they'll travel when they arise. We've documented the earthquake zones of the world and we know what can result from their activity. We also understand the hazards of a flood plain and the risks of locating in areas prone to tornadoes.
Where our ancestors, in the earliest beginnings of the human race, suffered from ignorance, we now suffer from stupidity. If you don't know, you have some hard lessons ahead, but if you know and you still stick your hand in the fire, you're stupid. You can substitute build…"in the flood plain, at the base of the volcano, on the tsunami swept shore, on the earthquake fault, in tornado alley, or in areas prone to hurricanes", for sticking your hand in the fire.
Let's make this as clear as possible. It's one thing to explore and seek answers, or even to do some extreme thrill-seeking, like sky diving from the edge of space, but building your house on the top of an active volcano is stupid – period.
This is still a big planet. There's plenty of room for us to live productive and interesting lives, but we face many challenges. There's no way to flip a switch and stabilize the Earth's population. There are too many different cultures, religions, agendas, circumstances, and priorities to contend with. We have to realize that the world's population will continue to increase for centuries to come.
So, what's the answer? Our current way of living requires high levels of resource and energy consumption, while the "green" movement fights against the necessary usage. Shouldn't there be a way to live well and be economical with our resources – and have a greener and more abundant Earth in the bargain?
Instead of this sprawling, resource gobbling, land consuming, two-dimensional, bacteria in a Petri dish inspired way of life, can we learn something from the fictional Krell? Sometimes, calculating the impossible, can shine a light on the possible…
If we begin to build, using the highly three-dimensional approach, we can easily avoid putting ourselves in the direct path of disaster. Just taking the example of the GTA, it would be a simple matter to build one-hundred city buildings that can be located in known safer areas. A city building is manufactured real estate that takes a city up, instead of out. The total real estate area provided by one-hundred of the city buildings we previously defined would be 20,000 square kilometers, almost fifty percent more area than the original 13,500 square kilometers, but with a combined footprint of only 400 square kilometers.
Japan has it all; tsunamis, earthquakes, volcanoes, and tropical storms. Employing the city building, everyone gets prime real estate in locations that won't be destroyed by natural disasters – and energy consumption will be greatly reduced in the bargain. Within each city building, electrically powered people moving systems will get you anywhere you need to go in minutes. Due to the three-dimensional structure, the city is now stacked up, instead of sprawled out.
If we go outside one of our buildings, we've drastically reduced the requisite number of highways and it's very probable that something like the existing bullet trains can be used to travel between buildings.
Security is now greatly increased as well. Outside of each city building, there's a buffer zone, an area where people and vehicles must pass through before entering the building. All goods, products, and food can be inspected before they enter the city. Truck bombs are stopped outside the city and never get in.
The potential advantages are too numerous to list. If, as I suggest, we build generously, each city can vary its architecture and design the interior with interest; including gardens, parks, shopping and restaurants, entertainment complexes, and so on, as well as business centers where people work. The buildings created in this paper have been uninteresting blocks, but it made them easy to calculate and analyze. I would expect actual city buildings to be great canvases, where inspired architects and engineers can and will create highly efficient, yet beautiful and inspiring spaces.
It's also important to remember that a city building can be defined according to needs. Anything from a business office, to light manufacturing, on up to heavy industry, can be designed into a large complex. Some of these might be totally dedicated to work, only housing on-site personnel, while others would be true cities, encompassing workplaces, and a wide range of living quarters, from basic to luxury, as well as everything else you'd expect to find in a city.
There's no doubt that a city building would be a revolutionary development, but so was the skyscraper and the Las Vegas mega-resort; they're both doing very well.
Japan, specifically in the GTA, would be well served to begin a transition to the city building. It would save a tremendous amount of real estate, greatly reduce energy consumption and pollution – and save thousands of lives. It would also make larger living spaces affordable for everyone.
The city building, as I see it, isn't a decree; it's a competitive option. When the first one is introduced, if done correctly, it will have much to offer. Today's skyscrapers and also the mega-resorts of Las Vegas, are beautiful and luxurious. I expect city buildings to exceed anything we've seen before. Compared to the sprawling cities of today, they are eminently more manageable and have the potential for safety and security beyond anything we've built before.
Let's look at a few more numbers, just to make it clear where the world is headed. The state of California is just a bit larger than Japan. The population of California is about 38 million, compared to Japan's 128 million. The GTA, has a population almost equal to that of the entire state of California. The land area of California is 424,000 square km, while the GTA covers 13,500 square km; about three-percent of the land area of California. The 100 city building solution, allowing for all the needs of a large metropolitan area, would only use three-percent of the existing GTA area and be capable of supporting the entire populations of California and the GTA combined.
Japan's GTA is a window on our future. We can continue to shrink our world by sprawling out, or bring back the open spaces by building up. We actually can have it all; cleaner air, a greener planet, abundant resources, and more room to play and enjoy our world.
———–
Check out Starship Congress, a conference on interstellar flight to be held in Dallas this August.