BLOG
Daedalus model Building (Part 1)
by admin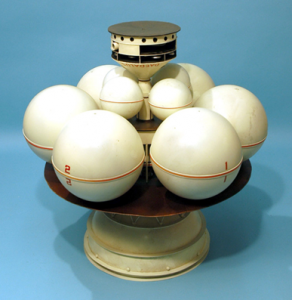 Whilst members of the Project Icarus Study Group are busy studying the vehicle configuration and engine design, it is important to visualise the vehicle when we can. Only three models of the Daedalus vehicle are known to exist and these are shown below. The first was built by Mat Irvine for the 1970s UK television program 'Spaceships of the Mind'. Mat is one of the UK's best model builders and his version was really excellent:
This next version of the model was a wooden version that is advertised on ebay. It is claimed to be a "Daedalus NASA Starship spacecraft Wood Model". Constructed from kiln-dried Wood Mahogany and hand-painted by artists. The origin of the model is unknown but to be fair to the company selling it, I will state that its claimed to be sold by MyAsianArt, an art and antiques gallery based in Manila, the Philippines:
The last of the models, 1 meter tall, was spotted at a Star Wars exhibit in Alaska by Icarus Designer Andreas Tziolas. Again, the origin of the model is unknown but a caption reads: "In the 1970s, the British Interplanetary Society challenged its members to design an interstellar spaceship using existing and emerging technologies. The result was Daedalus, a two-stage rocket designed to send an unmanned probe on a fifty year trip to Barnard's Star, a distance of six light years. Daedalus would use tiny fusion reactions to propel itself. A chemical rocket typically burns 800 pounds of fuel for every pound of payload it carries. A nuclear rocket, like Daedalus would use only 100 pounds of fuel per pound of payload."
The Icarus team has decided to get our own model built for Daedalus which we can use at exhibitions and conference trade stands. We have recruited the excellent British model builder Terry Regan for this challenge. Terry has got started on this ambitious project and we will update you with photographs as he progresses. Meanwhile below shows an image from his early construction of the second stage model, with a payload bay around 120 mm in diameter and 50 mm tall. Well done Terry, this is sure to be a really exciting initiative as the model evolves into the full spacecraft design.
  If you know of any other Daedalus models ever built, please let the Icarus team know. Kelvin Vice President (Europe) Icarus Interstellar