A Ship Called "Resolution" | Project Icarus Workshop Update #1/4
posted by Andreas Tziolas on October 20, 2013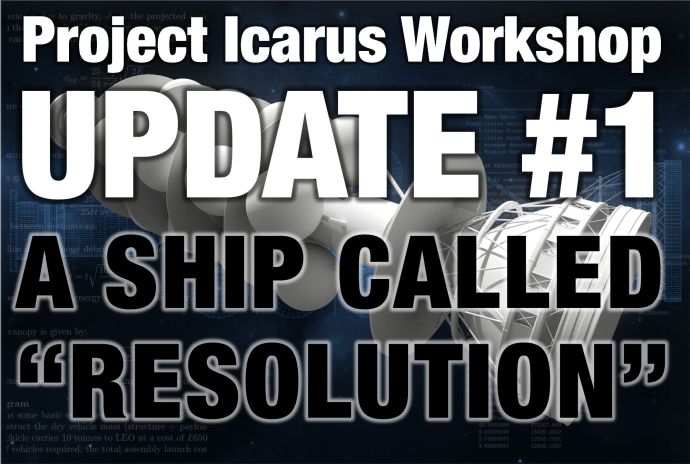 A Ship Called "Resolution"
Over the next two weeks, we will be presenting summaries of the four preliminary (4) interstellar vehicle designs presented at the British Interplanetary Society on October 21 and 22nd, 2013.
First up, we have a ship designed by Long, Osborne and Galea which does not try to hide its Daedalus origins. On the contrary, "Resolution" brings to bear numerous improvements noted over the past three decades since Project Daedalus was published, while adding some of that Icarus flair.
A summary of the vehicle follows:
—
"The Starship Resolution fusion starship concept design differs from Daedalus in that it uses a single engine stage instead of two. That engine and surrounding shielding are over engineered to take account of varying levels of radiation output from the two different fuels used by the engine.
 
The first of these fuels is Deuterium/Deuterium (DD) which is used for the acceleration burn of the vehicle. This take place over approximately thirteen (13) years getting the vehicle to a cruise speed of around 4.6% of the speed of light. The second fuel mixture is deuterium/helium-3 (DHe3), which is used for the deceleration burn, which occurs over approximately two (2) years, bringing the vehicle to orbital velocity around the target star, Centauri B, after a total mission duration of 99.95 years.
 
The total propellant mass for the mission is 22,000 tonnes, of which 4,000 tonnes are He3. The Helium-3 would be mined from Jupiter or Uranus, using 10 MW nuclear reactors delivered by aerostat balloons, similar to the Daedalus study. This is expected to be entirely in line with expected trends with near term technology and the development of in-space infrastructure, to supply a growing Earth/space solar system wide fusion fuel economy.
 
The total dry vehicle mass (excluding propellant) would be around 1,300 tonnes, which includes a 50 tonnes particle bombardment shield and a 150 tonnes scientific payload. The payload would contain an Artificial Intelligent computer, an on board nuclear reactor, and dozens of small drop probes, which includes orbital planetary flyby probes, atmospheric landers and penetrators. The on board laser communication system would also double as a Beamer to distribute many small Starwisp probes throughout the planetary system in order to fully characterise it. Some of the vehicle structural mass, around 200-300 tonnes, would drop off after the boost phase so as to facilitate an increased mass ratio for the later deburn phase.
 
Starship Resolution is a long vehicle with a total length of 200 m and a large cross sectional width of around 50 m. The philosophy here is to separate the payload from the propulsion plant via a long structural beam, similar to the Clarke philosophy adopted for the 2001 Space Odyssey Discovery 1.
 
The engine is powered by a shock ignition Inertial Confinement Fusion engine, uses capsule masses identical to the Daedalus second stage, 0.000288 kg, but with a reduced pulse frequency of 150 Hz (compared to 250 Hz for Daedalus). Shock ignition ICF is a form of direct drive, using approximately 10 MJ based long pulse and short pulse lasers, which has the promise of much higher capsule gain compared alternative ICF systems, although the physics approach is yet to be fully validated in a laboratory.
 
The overall philosophy adopted for the Starship Resolution design was to minimise mass and to get a reduction by at least half over the Daedalus design in all things."
—
The fundraiser is running strong, but we still need you help to hit our goal. We are asking for support in raising $2000 to support our volunteer researchers and students attending the workshop. All contributions made to Icarus Interstellar through October will be channeled to support the "2013 Project Icarus Design Competition". FOUR (4) breakway teams are presenting variations of spacecraft designs and mission configurations which will be presented during an internal workshop on the 21st, followed by a public symposium on the 22nd of October. 
In appreciation of your support, donors will receive:
$10 Your name listed in the acknowledgements of the final publication.
$20 Icarus Interstellar Lapel Badge (and above)
$50 Icarus Mug and t-Shirt (and above)
$100 Advance copies of the INTERNAL Spacecraft Design studies (and above)
$101 SPECIAL donations over $100 will receive an exclusive media pack containing HIGH RESOLUTION SPACECRAFT RENDERINGS by Adrian Mann (www.bisbos.com) (including all of the above!)
The exclusive content found in the INTERNAL Project Icarus Design Studies is the result of thousands of hours of research by our international volunteers. This is the FIRST TIME Icarus has shared full spacecraft designs. You can be among theexclusive few to explore our work first hand!
Icarus Interstellar the World's Largest 501c(3) Deep Space and Interstellar Exploration Research Organization. All donations are tax exempt and deeply appreciated. 
We are volunteers doing this work because it needs to be done. 
Lets Build A Starship Together

Donate $100 to receive Advance copies of the INTERNAL Project Icarus Interstellar Spacecraft Design Studies! (with BONUS EXCLUSIVE SPACECRAFT ARTWORK by Adrian Mann)
| | | |
| --- | --- | --- |
| | | |
| Icarus Interstellar lapel badge (IMAGE) | Icarus Interstellar mug (IMAGE) | "Build a Starship" t-shirt (IMAGE) |